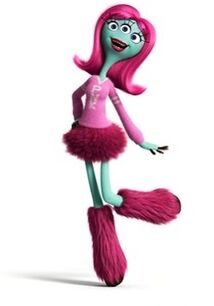 Britney Davis is a character in Monsters University. She is a member of the Python Nu Kappa sorority, and one of Carrie Williams' henchwomen. She has turquoise skin and pink hair.
Lodovica Comello played her voice in the Italian Version and Martina Stoessel played Carrie Williams' voice also in the Italian Version.
Gallery
Ad blocker interference detected!
Wikia is a free-to-use site that makes money from advertising. We have a modified experience for viewers using ad blockers

Wikia is not accessible if you've made further modifications. Remove the custom ad blocker rule(s) and the page will load as expected.